Magnesium is an essential nutrient used by every organ, and active in more than 300 chemical reactions in your body.

It's a key player in a wide range of processes in our bodies – from regulating muscle and nerve function, blood sugar levels and blood pressure, to making protein, bone and DNA.
What are the benefits of magnesium?
Magnesium helps to support a number of areas in body including muscle health, heart health and nervous system function.
Magnesium may help to relieve muscle cramps and spasm, support cellular energy production and support exercise performance. An adequate intake of magnesium may aid in relaxation and help support sleep.
What foods contain magnesium?
Most green vegetables, legumes, peas, beans and nuts are rich in magnesium, as are some shellfish and spices. Unrefined cereals provide a moderate amount of magnesium; highly refined products contain very little.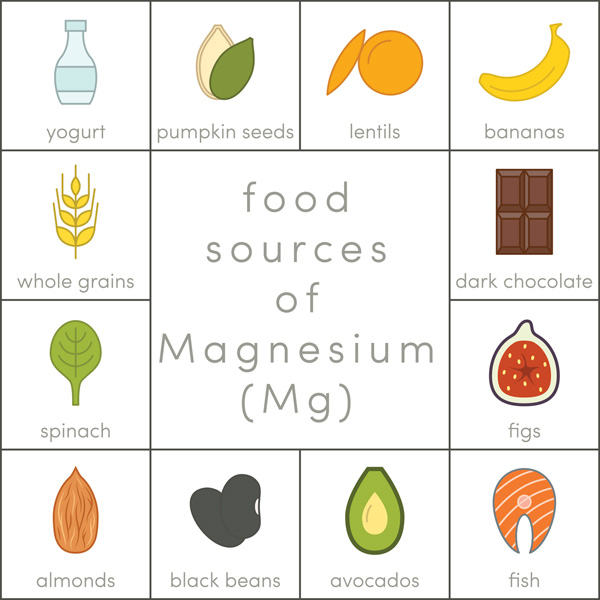 Magnesium food sources
Absorption of magnesium is quite adaptive to our diet – studies have demonstrated a rate of absorption at around 25% for folk following a high magnesium diet, while another found those with more limited intake absorb up to 75%.

That said, some diets and minerals may reduce the absorption of magnesium, for example:
High fibre intakes – 40-50 g/day
High intakes of zinc at 142 mg/day
Protein intake less than 30 g/day
While the best source of magnesium is food, the Bureau of Statistics' Australian Health Survey reveals about a third of adult Australians don't get enough magnesium.
Optimal levels of magnesium through the diet may be difficult to obtain at times, and a magnesium supplement may be of benefit if dietary intake is inadequate.
How much magnesium do you need?
The amount of magnesium recommended each day varies by age and gender.
Age

Recommended Daily Intake (RDI)

1 to 3 years
4 to 8 years
80 mg/day
130 mg/day
Boys
9 to 13 years
14 to 18 years

240 mg/day
410 mg/day
Girls
9 to 13 years
14 to 18 years

240 mg/day
360 mg/day
Men
19 to 30 years
>31 years

400 mg/day
420 mg/day
Women
19 to 30 years
>31 years

310 mg/day
320 mg/day
From one to three, 80mg is the RDI per day, increasing to 130mg from four to eight years of age. This increases again to 240 mg from nine to 13 years old, then 360 to 410 mg per day by 14 through adulthood.

By adulthood, men 400 mg per day until their hit their thirties, when it rises to 420 mg. Women require 310 mg until their thirties, increasing to 320 mg thereon – except during pregnancy when it rises to 420 mg.
What factors affect magnesium levels?
While primary magnesium deficiency is rare in healthy people, our intake of magnesium is often below the RDI.
Alcohol, caffeine and excess salt intake can also affect our magnesium levels along with excessive sweating – particularly with exercise, and ongoing stress.
Green juice magnesium boost
Leafy green vegetables are a great source of magnesium so why not whip up a green juice in the morning. Blend together:
Spinach
Kale
Celery
Lemon
Coconut water
Pineapple
Mint
Choc almond bliss balls
Cacao and almonds are also a source of magnesium and these bliss balls are a great healthy option when your energy levels are flagging or energy or your sweet tooth is knocking on the door demanding to be fed.
⅔ cups of shredded or desiccated coconut plus extra for coating
1 cup of almond meal
¼ cup almonds
⅓ cup cacao powder
10 Medjool dates (or 1 cup soaked dates)
Zest and freshly squeezed juice of one medium orange
1 tablespoon coconut oil or butter
Put all ingredients into a food processor and blitz until combined. Roll into small balls. Roll in the added coconut. Place on a lined tray and pop in the fridge until serving.